Student Success Update
Additional Syllabus Language
Syllabus language has been forwarded to faculty addressing many new aspects related to COVID-19. Please remember to include in your syllabi language related to regular policies such as Academic Honesty, Religious Holy Days, and CAPS. Below are examples of language that can be included.
Academic Honesty: It is each student's responsibility to read and understand the Academic Honesty Policy found in the UH Catalogs.
Religious Holy Days: Students whose religious beliefs prohibit class attendance or the completion of specific assignments on designated dates may obtain an excused absence. To do so, please make a written request for an excused absence and submit it to your instructor as soon as possible, to allow the instructor to make arrangements. For more information, see the Student Handbook.
Counseling and Psychological Services (CAPS) can help students who are having difficulties managing stress, adjusting to college, or feeling sad and hopeless. You can reach CAPS (www.uh.edu/caps) by calling 713-743-5454 during and after business hours for routine appointments or if you or someone you know is in crisis. Also, there is no appointment necessary for the "Let's Talk" program, which is a drop-in consultation service at convenient locations and hours around campus.
TC Energy Summer Scholars Academy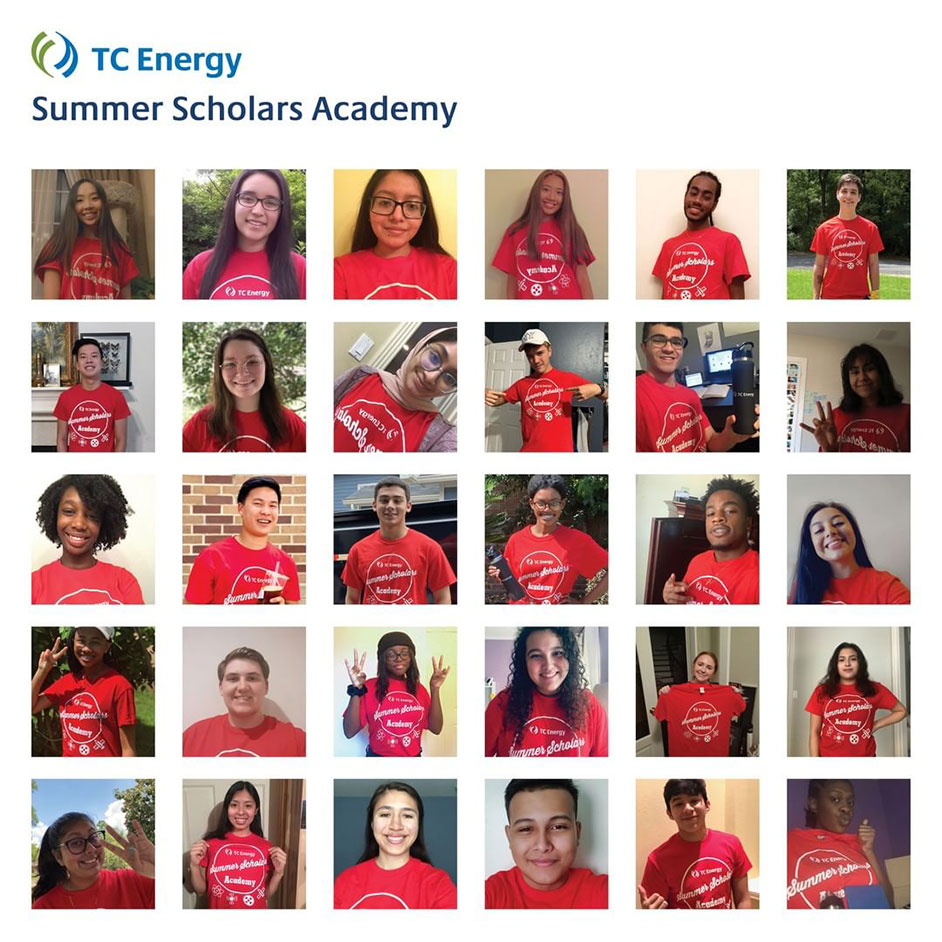 The first entirely virtual TC Energy Summer Scholars Academy successfully wrapped up on August 7. Fifty students choosing a major in the College of Natural Sciences and Mathematics or the Cullen College of Engineering as their first choice who were not directly admitted to the colleges participated in a full version of MATH 1431 Calculus 1 under the instruction of Professor Irina Perepelitsa. They also received a mini-course in student success taught by Dr. Donna Smith and an introduction to college chemistry mini-course taught by Dr. Lydia St. Hill.
Participants also interacted with professionals in a variety of STEM fields in a series of five Career Panels and Lunch and Learns. Daily tutoring offered through the Scholar Enrichment Program was extended to include evenings and weekends to accommodate participants who needed to work. Participants who passed the end of session calculus credit-by-exam test offered through the Measurement and Evaluation Center earned credit for Calculus 1. The program ended with a closing celebratory ceremony on Friday, August 14, to honor the accomplishments of the participants.
Foundations to Success in Organic Chemistry
The two-week Foundations to Success in Organic Chemistry summer program kicked-off on Monday, August 3, with 52 students enrolled. The program, in its 5th year, was offered in a fully online format due to the COVID-19 pandemic.
The program recruits students identified as at-risk for success in Organic Chemistry 1 based on their performance in the Fundamentals of Chemistry 2 course. Recruiting efforts were particularly directed toward students who transferred their Chemistry 2 credit to UH from a community college. The program ran from 9 am – 1 pm on weekdays.
Dr. Ognjen Miljanic, professor in the Department of Chemistry, engaged the participants in a Fundamentals of Chemistry 2 review which focused on mastery of key concepts which are critical for success in the organic chemistry course. Participants were also exposed to introductory topics in organic chemistry to give them a jump start on the course content for the Fall semester.
---
Rate this article...
---